Balanced play propels Port St. Joe to win over Seahawks
For the first time since 2019, and only the third time in nearly a decade, Port St. Joe had a date with Franklin County under the Friday night lights as the Seahawks celebrated Alumni Night by hosting the Tiger Sharks.
Proceeding to regroup and rebound from a 22-20 nail-biting loss last week to Bozeman, Port St. Joe (5-3 overall) used tenacity on both sides of the football to clip the Seahawks (0-9 overall) by a score of 40-0 to notch their fifth win of the year as the high school football regular season races towards the postseason.
Taking an offensive edge into Friday night's contest, Port St. Joe's potent ground attack and their 255.6 rushing yards per game average looked to test a Franklin County defense giving up an average of 41.5 points per game.
Nevertheless, the Seahawks hoped their 72 yards per game advantage over the Tiger Sharks in the passing department could potentially crack the door to their first victory of the 2023 season in front of a fan-filled crowd at Mikel Clark Stadium.
Opening up the game on offense, Port St. Joe wasted no time putting points on the board, using a reception by junior wide receiver Chance Gainer to set up a passing touchdown from just outside the red zone by senior quarterback Devin Cuttino to sophomore wide receiver Eli Harris to give the Tiger Sharks a quick 7-0 lead.
Looking to show as much efficiency on the defensive side of the ball, the front four of Port St. Joe allowed Franklin County senior quarterback Cody Abercrombie little time to build any offensive momentum, ultimately leading to a four-and-out on the Seahawks' opening drive.
Amping up the scoring pressure, the run-heavy Tiger Sharks once again showed their ability to strike by air as well, with Gainer making a contested over-the-shoulder grab that he converted into a touchdown to swell the Port St. Joe advantage to 14-0.
After another solid defensive stand by the Tiger Sharks pushed Franklin County into a punting situation near their goal line, the Port St. Joe special teams unit made their presence felt with a tackle in the backfield to give their offense the ball within five yards of paydirt.
Capitalizing on prime field position, a third-down rush by senior running back Marcus Clayton finally broke through a steadfast defensive effort on the goal line by Franklin County to extend the Tiger Sharks lead to three possessions at 21-0 to end the opening 12 minutes of action.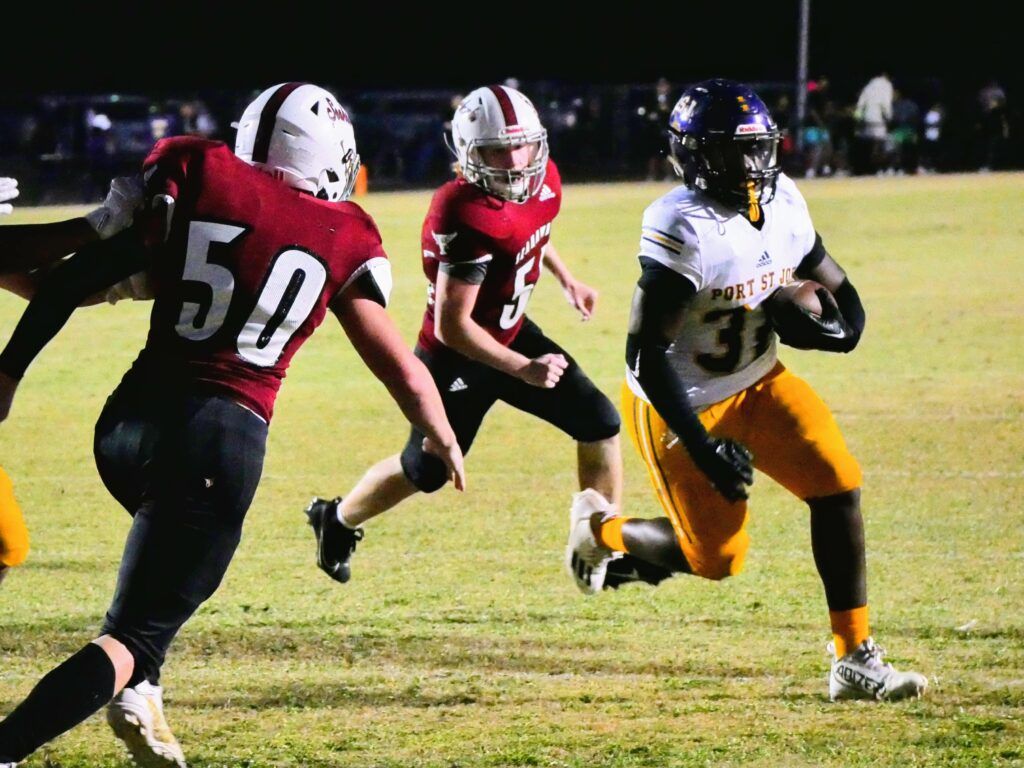 Moving into the second quarter, it was more of the same from Port St. Joe as they needed just 28 seconds to go up 27-0 after a touchdown run by sophomore running back Corban Butts.
After an interception halfway through the quarter, the Tiger Sharks converted on their third passing touchdown of the evening courtesy of a pass from sophomore quarterback Jacob Hensley to junior wide receiver Daren Angelino to put the Port St. Joe advantage at 34-0.
Though down multiple scores with halftime quickly approaching, the Franklin County offense refused to surrender, as evidenced by a beautiful screen pass from senior quarterback Alex Sterling to freshman speedster Sadiq Jones.
Putting his shiftiness and acceleration on display, Jones navigated the right sideline while weaving through Port St. Joe defenders to push the Seahawks into scoring territory with 1:56 remaining before an eventual interception with time expiring took the teams to the half with the Tiger Sharks up 34-0.
Coming out for the final 24 minutes of play, Port St. Joe extended their excellence of execution both offensively and defensively.
Picking up where they left off in the first half, the Tiger Sharks needed less than two minutes for Gainer to post another interception for Port St. Joe near midfield.
With both teams choosing to give their reserves valuable playing time, it was the defensive units of Port St. Joe and Franklin County that continually shined throughout much of the third and fourth quarters.
Capped off by a nearly 100-yard pick-six by Port St. Joe's Harris as time expired for the only points of the second half, the Tiger Sharks collected their fifth win of the season in a 40-0 shutout victory.
Pacing Port St. Joe in the passing department was Cuttino, who went a perfect 4 for 4 for 86 yards and two touchdowns. Hensley added 82 yards via the air while completing 7-of-12 passes.
On the ground, Butts led the Tiger Sharks with 95 yards and a touchdown on three carries, while Clayton converted five carries into 25 yards and a touchdown.
Seven Port St. Joe receivers recorded at least one catch in the win, topped by Gainer's 59 receiving yards and one touchdown via two catches.
While the Seahawks managed no rushing yards, they completed 12 of 30 passes for 157 yards, led by Sterling's 9 of 20 for 130 yards and Abercrombie's 3 of 10 for 14 yards.
Senior Logan Bentley, junior Ajaylen McNair and Jones each caught three passes, while senior Ethan Kembro snared a pair and senior Terry Proctor one.
Junior Clayon Martina and Abercombie led the team with five tackles each.
Heading into the final stretch of their regular season schedule, Port St. Joe will stay on the road for an away matchup against Sneads on Oct. 27 at 7 p.m.
Franklin County has a bye Friday and then hosts Wewahitchka on Nov. 3 for a gridiron showdown at 7 p.m.