Florida State Volleyball Hosts Boston College and Syracuse in Big Weekend
TALLAHASSEE, Fla. (Seminoles.com) – Florida State Volleyball has a few big promotions this weekend as it plays host to Boston College on Friday at 6:30 p.m. and Syracuse on Sunday at Noon.
The Seminoles (13-7, 7-1) are tied for first in the ACC as they near the halfway point of their conference schedule, joining fifth-ranked Louisville and No. 8 Pitt atop the standings. On Friday, FSU will have its Seminole Heritage game, where it will pay tribute to the Seminole Tribe of Florida by wearing turquoise warm-ups. Fans will be educated about The Tribe throughout the match.
On Sunday against Syracuse, FSU will host its Paint it Pink match presented by TMH, aiming to promote breast cancer awareness.
FSU is coming off a .460 hitting percentage at Clemson on Oct. 15, its second-highest of the season and its best offensive performance in ACC play this year. Middle blockers Khori Louis (2nd, .474) and Kiari Robey (13th, .424) are the only teammates whom rank in the Top 15 in the nation in hitting percentage.
The Seminoles lead the nation in hitting percentage at .321. FSU leads the ACC in hitting percentage, kills per set (13.96), team assists (934) and team kills (1,033).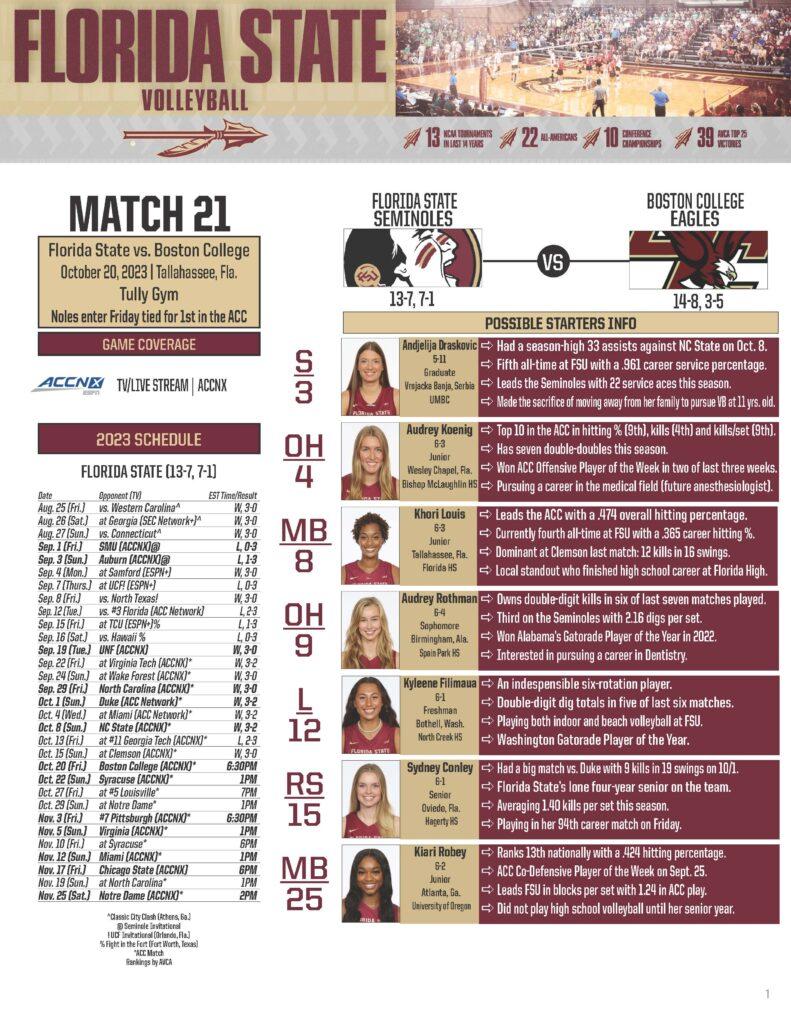 Junior outside hitter Audrey Koenig is on pace to be the first Seminole to record three or more kills per set since Payton Caffrey averaged 4.03 kills per set in 2019.
FSU leads Boston College 24-2 overall, but is coming off a 3-1 loss last year in Chestnut Hill. Prior to that, FSU won 19 straight against the Eagles. The Seminoles are 14-0 all-time against Syracuse.
 Fans can follow all the content from this season on the FSU Volleyball social media channels on Instagram, X, and Facebook.