Theresa Tolle Named 2023 NCPA Willard B. Simmons Independent Pharmacist of the Year
NEWS PROVIDED BY
Upsher-Smith Laboratories, LLC 
Theresa is the daughter of Carl Max and Joyce Wells of Chipley, Florida. She is a 1983 graduate of Chipley High School (Valedictorian of her class). She is a 1988 graduate of the University of Florida College of Pharmacy and owns an independent pharmacy in Sabastian, Florida.
MAPLE GROVE, Minn., Oct. 17, 2023 /PRNewswire/ — Upsher-Smith Laboratories, LLC (Upsher-Smith) is pleased to announce that Theresa Tolle, BSPharm, FAPhA, owner of Bay Street Pharmacy in Sebastian, Florida, is the winner of the 2023 National Community Pharmacists Association (NCPA) Willard B. Simmons Independent Pharmacist of the Year award. Tolle was honored with the award on Monday, October 16 at NCPA's Annual Convention and Expo in Orlando, FL.
The annual award is given to a pharmacist who exhibits exemplary professional leadership, service to community, and commitment to independent pharmacy. This year marks Upsher-Smith's 15th year of sponsoring the prestigious award in conjunction with NCPA. The award is named in honor of Willard B. Simmons, a former executive secretary of NCPA (then known as the National Association of Retail Druggists) and a longtime trustee of the NCPA Foundation.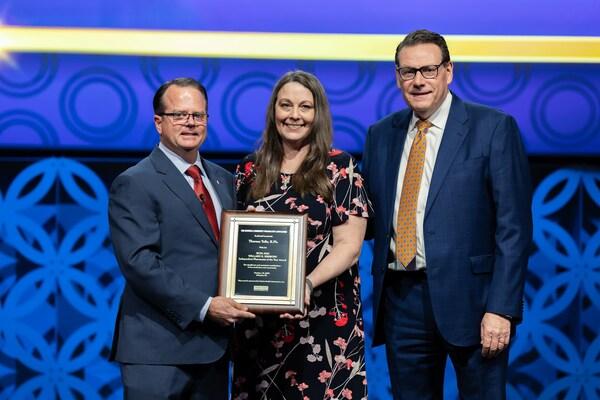 Tolle, a second-generation owner and pharmacist, has led Bay Street Pharmacy alongside her husband, Joe, since 1999 offering a wide range of patient services including immunizations and testing, diabetes education, compounding, medication therapy management (MTM), and pharmacogenomics. The pharmacy also serves as a postgraduate year one (PGY1) community-based residency program site affiliated with the University of Florida College of Pharmacy.
Beyond her pharmacy, Tolle's professional impact extends across local, state, and national pharmacy associations. She has held leadership roles in the Florida Pharmacy Association, the American Pharmacists Association (APhA), and the Community Pharmacy Enhanced Services Network (CPESN) Florida. Tolle actively participates in NCPA committees and plays a pivotal role in the development of clinically integrated networks for independent pharmacies, serving as the Lead Luminary of CPESN Florida. She actively contributes to numerous committees within CPESN USA, furthering the reach of independent pharmacy care.
In her community, Tolle chairs the Board of Trustees for her local hospital, Sebastian River Medical Center, and also contributes to Substance Abuse Free Indian River (SAFIR). She previously served as a board member for the Sebastian Chamber for more than 14 years.
Tolle's illustrious career has earned her several distinguished professional awards including the 2023 Kappa Epsilon Fraternity KE/Merck Vanguard Leadership Award, 2019 UF College of Pharmacy Outstanding Alumnus recognition, and the 2018 NCPA Preceptor of the Year, among others.
"Upsher-Smith is honored to partner with NCPA in recognizing the invaluable contributions of independent pharmacists and extends our warmest congratulations to Theresa Tolle whose dedication to her profession, community, and, most importantly, her patients, serves as an inspiring example for pharmacists nationwide," said Rich Fisher, President and COO, Upsher-Smith.
NCPA President Hugh Chancy, RPh, added, "Theresa's remarkable achievements exemplify the essence of independent pharmacy where pharmacists like Theresa make a profound difference in the lives of their patients and communities. Theresa's commitment to patient care and professional excellence is a source of inspiration for pharmacists and makes her a deserving recipient of this year's Willard B. Simmons Independent Pharmacist of the Year Award. We congratulate Theresa on this well-deserved honor and thank Upsher-Smith for its continued support in highlighting the outstanding work of community pharmacists."
Upsher-Smith Laboratories, LLC is a trusted U.S. pharmaceutical company that strives to improve the health and lives of patients through an unwavering commitment to high-quality products and sustainable growth. The company brings brands and generics to a wide array of customers, always backed by its attentive level of service, strong industry relationships, and dedication to consistent product supply. For more information, visit www.upsher-smith.com.
Founded in 1898, the National Community Pharmacists Association is the voice for the community pharmacist, representing over 19,400 pharmacies that employ approximately 240,000 individuals nationwide. Community pharmacies are rooted in the communities where they are located and are among America's most accessible health care providers. To learn more, visit www.ncpa.org.
SOURCE Upsher-Smith Laboratories, LLC & PR Newswire