Gulf County sees active turtle nesting season
Volunteers with the Florida Coastal Conservancy marked their 175th sea turtle nest of the 2023 nesting season on August 2, and with about two weeks of nesting to go, the organization is expecting to well exceed their 150 nest average.
This means that in the coming months, thousands of turtle hatchlings are expected to make their way from Gulf County's sand dunes to the Gulf of Mexico.
"We love this time of year when we experience the full circle of nesting season with mommas coming ashore and babies hatching nightly," said the FCC's sea turtle volunteer coordinator Jessica Swindall.
"14 of our nests have hatched, and we have evaluated nine of those, and those nine nests produced 668 hatchlings. So that gives you an idea of how many more hatchlings are to come."
"… We had just a minor bit of storm activity towards the beginning of the season that washed over a few of our nests, and we were worried about them, but they are all still hatching, even the ones that got washed over."
During sea turtle nesting and hatching season from May through October every year, volunteers and environmental workers walk miles-long stretches of Gulf County's beaches every morning searching for telltale turtle tracks in the sand.
The goal is to find, mark and document any nests that were laid overnight early, before they are mistakenly disturbed by beachgoers.
The volunteers' efforts are essential to documenting population numbers of these protected, vulnerable and endangered species, as sea turtle populations are difficult to track and can really only be estimated through nesting numbers.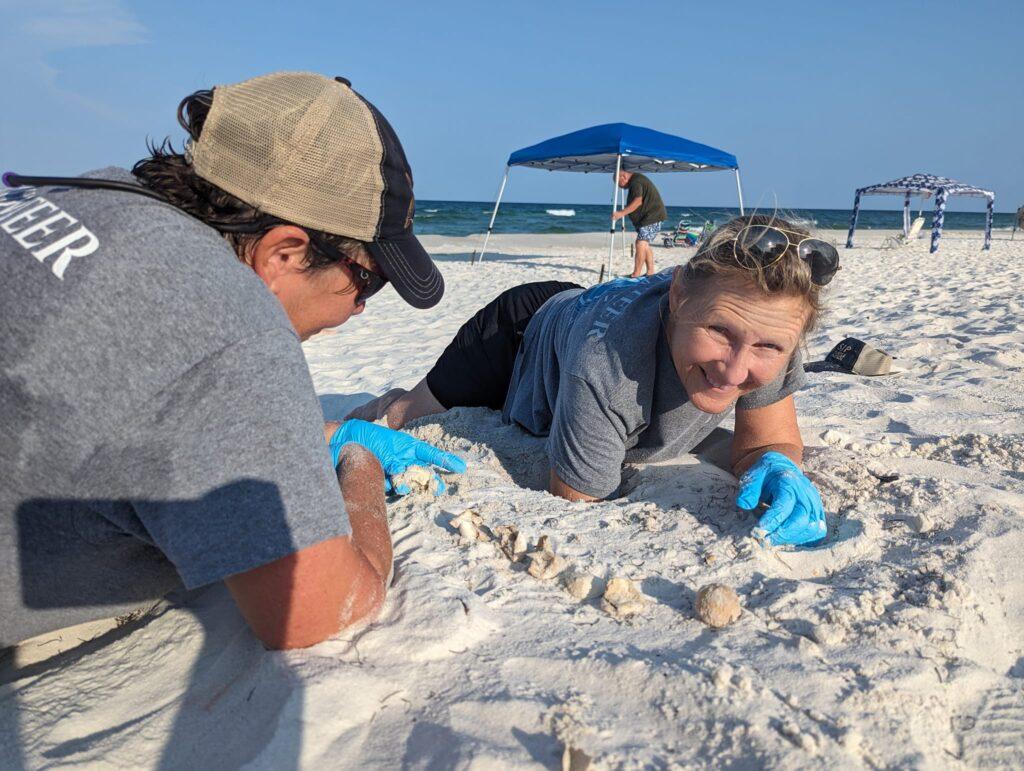 But while Gulf County's share of nests is large, there is no consistent number for the number of sea turtle nests laid on Cape San Blas in any given summer, Swindall said. Some years the number is closer to 100. Others it well exceeds 200.
The FCC's 175 nests represent only a fraction of the total number of sea turtle nests that have been documented along Gulf County's beaches this summer.
At the T.H. Stone Memorial St. Joseph Peninsula State Park, park employees had documented 201 nests as of July 30.
These numbers are only slightly lower than those from this time last year, which was one of Gulf County's most active turtle nesting season on record.
"I don't think we're going to beat last year, but it's still a pretty good year," said Swindall. "Any year that we get over 150 is great."
The majority of the sea turtle nests documented by FCC volunteers belong to Loggerhead sea turtles, Swindall said. But this year, volunteers have discovered more green sea turtle nests than in years past.
"We have 20 green (sea turtle) nests this year, which is a new record for us," Swindall said. "We're really happy about that. The greens just keep rolling in."
Now, moving into the point in sea turtle nesting season when hatchlings begin to make their way back to the gulf, Swindall said it is extra important for those along the beaches to be mindful of their lights.
"A big concern going into hatching season is the lights," she said. "We've had just a couple of disorientations, but the hatchlings are so sensitive to artificial lighting because they're just seeing light for the very first time."
"They're looking for the celestial sky reflecting off of the ocean, so any kind of artificial light source can be detrimental. So, we encourage those on the beaches to either turn their lights off after dark or use turtle-safe lighting," which omits a lower visual wavelength and usually appears red.
Those who come across stranded turtle hatchlings are asked to report the discovery to the FWC hotline at 888-404-FWCC or to the FCC by emailing [email protected].