Guffey sees success in first collegiate season
Success on the softball diamond has followed Haley Guffey from Wewa to Ocala, where she had a remarkable freshman season at the College of Central Florida this year.
Guffey, who left her mark as a Gator with a career record of 54 wins and 743 strikeouts in 476 innings pitched (all of which would have been higher but for the Covid-shortened 2020 season), ended her initial college season with a 27-5 record and 190 strikeouts in 180 innings.
For her efforts, Guffey was selected as a 1st-team pitcher on the D1 All-FCSAA/All NJCAA, Region 8 team. In addition, she earned Pitcher of the Year honors in the All-Mid-Florida Conference.
These accolades would hardly surprise anyone familiar with Wewa softball during her time wearing a Gator jersey, but Guffey gave credit to her teammates, saying "I couldn't have done it without my team. They're the ones scoring the runs."
However, considering her 1.59 ERA and .171 batting average allowed, her teammates did not have to score many runs for the Patriots to compile an overall record of 46-13, with Guffey winning more than half of the total.
Asked about her first foray into college softball, she said "It was about what I expected, (and) definitely nothing I couldn't handle."
Noting the biggest differences between high school and college hitters, she said that "College batters are more developed, in that they might look for a certain pitch, and their IQ level of the game is higher."
With her college pitching coach, Megan Garst, Guffey began throwing an off-speed curve, "which I had thrown before but had gotten away from. But my most successful, go-to pitch, is my screwball. It always has been, even throughout high school."
Garst, who pitched one year at Sheldon State Community College and four years at the University of North Alabama where she set strikeout records at both, finished her first year at CCF after serving as a graduate assistant at the University of Alabama.
"She's a good pitching coach," said Guffey, "and has the mindset of a pitcher. She's easy to talk to."
Garst had plenty of platitudes to say about her star pitcher, saying "It has been a pleasure working with Haley this season. I cannot wait to see what she accomplishes next season."
"She is a student of the game, and is quick to learn the ins and outs of pitching," she added.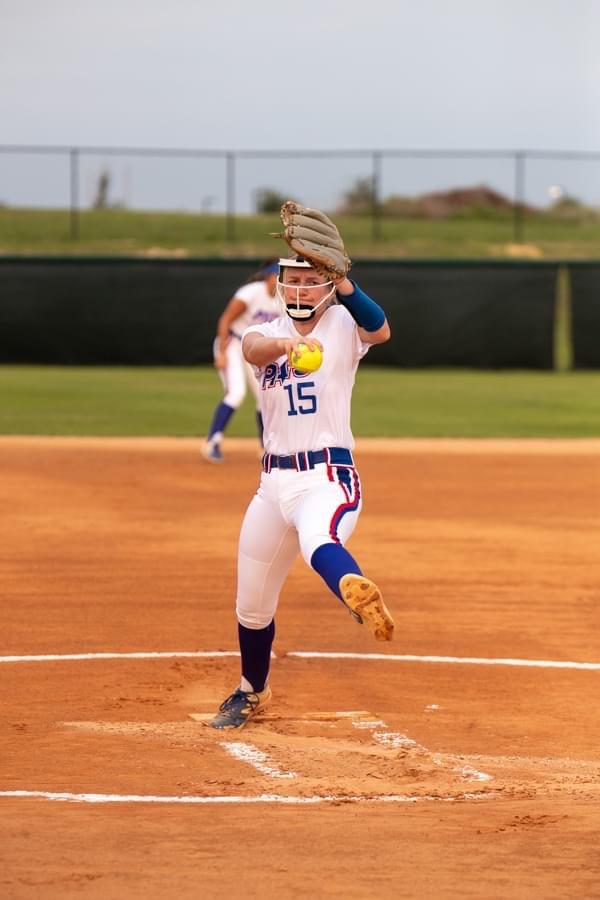 Describing Haley as "a rock" on the mound, Garst said that "You always know you will get the same cool-headed athlete. Nothing seems to shake her when she gets out there, (and) it's like she's in her own world, locked in and ready to go."
Agreeing with Guffey about her best pitch, Garst said that "(Haley) has a phenomenal screwball that cuts in hard to right-handed hitters."
"Overall, Haley is the type of athlete every coach enjoys working with. She is talented, kind hearted, and hard working," she said.
During the summer off-season, Guffey is working out in the weight room in addition to working on her pitching, especially the changeup. "I'm just working by myself right now, because I know what I'm doing wrong and what I can do to fix it. Getting a dominant off-speed pitch will help my game."
As a high school player, Guffey also presented a threat at the plate, but in college "I don't have to stress about hitting people in, (plus) I'd rather have a big strikeout than a big hit."
Asked about any of her 27 wins that stood out, she replied that "in our first game at state, playing Indian River, I had 10 strikeouts and we won 4-1. I was 'on' in that game. I got myself into a jam in the 7th inning, but worked out of that. Before the 7th, I was lights out."
Her biggest disappointment? "Not making it to nationals, which is the goal for every team."
Since the College of Central Florida is a two-year college, Guffey is thinking about the future, saying that some four-year coaches "have reached out, and I'm keeping it all on the table to see what happens. My options are open."
In the classroom, Guffey is working towards her associate in arts degree, with the goal of completing a dental hygiene program.
Even in college, Guffey is not too far from some of her Wewa teammates. Morgan Mayhann and Katie Shealy, Guffey's catcher and shortstop, respectively, are both students at the University of Florida in Gainesville, only a half hour from Ocala, and "we hang out every now and then."
Considering her work ethic, talent, and desire to improve, the prospects for an even better season in 2024 for Guffey and the Patriots are highly probable. The Star wishes her continued success.