First responders honored at award ceremony
Church members had to pull out additional chairs to accommodate the crowd of first responders at Mt. Carmel Missionary Baptist Church last Sunday afternoon.
There, fire departments, police departments, sheriff's offices, state agencies and other emergency personnel gathered to be recognized for their service in the church's third Heroes Awards event.
The event, which was first started by pastor and police chaplain Kenneth Frame in 2016, aims to recognize the dedication of these individuals to public safety.
"There are officers who work so hard and just don't get the recognition that they deserve. People are always cursing them out and treating them badly," Frame said. "I wanted to treat them to something special. I wanted to let them know that there are citizens out here who appreciate everything that they do. That's how we came up with (the award ceremony)."
After a service, representatives from each of more than 40 made their way down a red, white and blue bunting-clad aisle to the front of the room to claim their award of recognition, paid for by the Port St. Joe Lion's Club.
Gulf County Emergency Management Director Matt Herring, who began helping to organize the event in 2019, following Hurricane Micahel, said that the event gets larger every time it takes place.
"We had 49 confirmed departments that RSVP'd for today," Herring said. "… This is the biggest one so far, I think. We had some folks that couldn't come for various reasons, but we had a great turnout."
Some agencies ventured from farther away than the panhandle, with state agencies traveling from South Florida and emergency personnel from Greenlaw, Ohio making the trip. Batman, who volunteers with children undergoing crises to bring joy and encourage strength, even made the trip all the way from Gotham City.
Following the ceremony, first responders mingled on the church's lawn and enjoyed a free lunch provided by Mission BBQ in Panama City.
Frame said he and Herring hope to see the event continue its growth as they strive to make it an annual occurrence going forward.
"It's going to be an every year event," said Frame.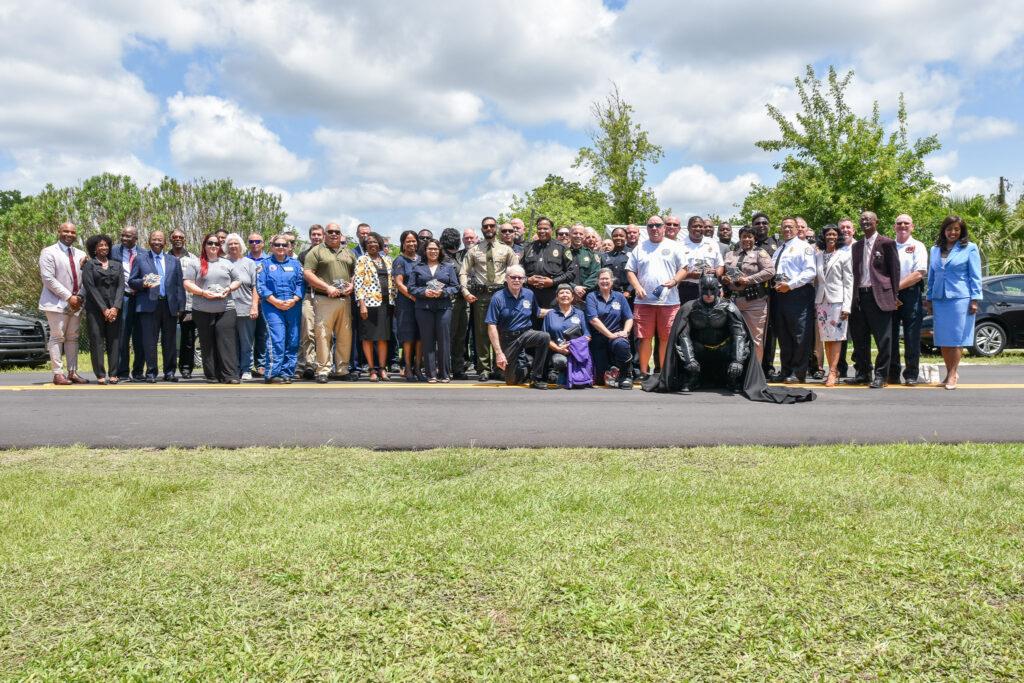 Agencies recognized at this year's Heroes Awards
LAW ENFORCEMENT
Port St Joe Police Department
Gulf County Sheriff's Office
Chattahoochee Police Department
Gadsden County Sheriff's Office
Leon County Sheriff's Office
Quincy Police Department
Crestview Police Department
Tallahassee Police Department
Apalachicola Police Department
FSU Police Department
Greenlaw Police Department (Ohio)
FIRE DEPARTMENTS & EMS
South Gulf VFD
Dalkeith VFD
Highlandview VFD
Port St Joe Fire Department
Mexico Beach Fire Department
Tallahassee Fire Department
Quincy Fire Department
Midway Fire Department
Mount Pleasant Fire Department
Madison Township Fire Department (Ohio)
Gulf County EMS
ShandsCair Life Flight Helicopter Crew
STATE AGENCIES
Florida Department of Agriculture Law Enforcement
Florida Fish and Wildlife Conservation Commission
Florida Highway Patrol
Florida Division of Blind Services – Director Robert Doyle
Road Rangers Service Patrol (FDOT)
State Fire Marshal's Office
DIGNITARIES
Gulf County Commissioner & Board Chairman Sandy Quinn
City of Port St Joe Mayor Rex Buzzett
14th Judicial Circuit Judge Devin Collier
14th Judicial Circuit Judge Elijah Smiley
2nd Judicial Circuit Judge Richardson
City Tallahassee City Commissioner Richardson
MISCELLANEOUS
Goliath Academy Green Acres, FL (Kids)
Dynamic Integrated School Resource Officers
Batman
Garver Asset Protection
Christian Motorcyclists Association – Riders #446
Port St. Joe Star Newspaper
WCTV