Celebrate Earth Day in Gulf County
Ahead of Earth Day on Saturday, here are some local events where you can care for and celebrate the environment in Gulf County.
Help clean up the community garden
The Port St. Joe Community Garden will be holding a community work day in observation of Earth Day.
Volunteers of all ages and experience levels are invited to come by the garden between 9 a.m. and 2 .m. EDT on Saturday to help clean up garden plots, construct a "tomato cage" structure, work on a corn plot and perform other necessary tasks for the facility.
The community garden's gaol is to provide fresh produce for those in need within the community. It is located at the intersection of Kenny Street and North Garrison Avenue.
Water will be provided for volunteers.
Litter Rodeo at Rish Park
Travel down the beach or road side of William J "Billy Joe" Rish State Park on Cape San Blas Saturday with a park ranger to collect, record and dispose of trash — protecting our natural resources (like sea turtles) along the way.
Park entry will be free for participants. The Litter Rodeo begins at 10 a.m. EDT.
The Forgotten Coast Sea Turtle Center will set up a display to celebrate the start of sea turtle nesting season, which lasts May through October.
Volunteers will be provided with buckets, pickers and gloves.
Wear weather-appropriate clothing, closed toe shoes, sun protection and insect repellent. Please bring a reusable water bottle and drinking water.
Registration required by April 20; email 

[email protected]

.
Grow a sunflower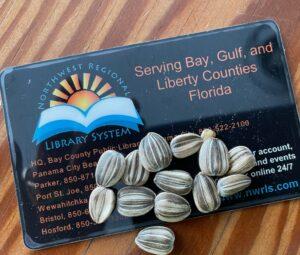 The Port St. Joe Garden Club's Seed Library Committee is excited to announce a Sunflower Bloom Contest to celebrate Earth Day.
Skyscraper sunflower seeds will be available free of charge to library card holders through the seed library at the Corinne Costin Gibson Memorial Public Library. All county residents are eligible for a card. Those who do not have a card may easily acquire one simply by applying at the library desk.
Sunflower seeds and entry forms will be distributed starting on Earth Day, April 22. Members of the garden club's Seed Library Committee will commence judging the sunflower blooms on July 10 at 2 p.m. EDT at the library.
Only skyscraper sunflower blooms grown from seeds distributed at the library will be eligible for judging. Cut flower entries should be on stems of less than 12 inches and exhibited in a clear vase or bottle.
Entrants may submit their blooms along with their completed entry forms at the library anytime during library hours between July 8 and noon on July 10. Only one entry will be accepted per person.
Photos of the winners will be taken for publicity in The Star newspaper, and prizes will be awarded. The first place prize is $50, the second place prize is $25, and the third place prize is $15.
Enter essay and photo contest
The Gulf County Citizens Coalition for a Healthy Future is asking members of the community to share their very best photos and experiences of the St. Joe Bay.
Was it a memorable fishing adventure with your Dad? A successful day of Scalloping? If you don't spend much time on the Bay, is there something in particular about it that makes it feel like home to you?
The photographer with the winning photo will be awarded $100 and a gift basket filled with treasures from local retailers. Your photo will be published in The Star.
The author of the winning essay (which must be 100 words or less) will be awarded $100 and a gift basket filled with treasures from local retailers. Your essay will be published The Star.
The deadline to enter your photos and/or essays is Sunday, April 23 at 6 p.m. EDT. Please e-mail your entries to [email protected].