Tiger Sharks boys, girls soccer celebrate seniors
Last Tuesday, Port St. Joe's soccer teams honored their senior players, and then easily dispatched Munroe High School with the girls winning 8-0 and the boys prevailing 9-2. 
With team captain Jesslyn Kuhnel being the only senior on the girls squad, the youthful Lady Sharks ran to a 5-0 first half lead and added three more scores in the second half. 
RJ Gerlach scored three goals, while Alexa Pavon and Jessica Dunn each scored twice. Gerlach, an eighth grader, and Pavon, a freshman, share the team scoring lead with nine goals each. Appropriately, Kuhnel capped her senior night with a score of her own. 
Handling the goalkeeping duties for a half each, Brooke Peacock and Sunny Shearer preserved the shutout win against the Bobcats. 
Combining the defeat of Munroe (0-13) with a forfeit win over St. John Paul II (January 12), St. Joe brought its overall record to 8-7-2. With a 2A District 1 record of 5-2, the Tiger Sharks are seeded second to first place Rocky Bayou, and will play St. John Paul II on Thursday, Jan. 26. 
In Saturday's regular season finale against 6A Leon, the Sharks took it on the chin in a 5-0 loss to finish the regular season at 8-8-2. 
The senior-laden Lions scored four times in the first half to effectively put the match away, adding a final goal after intermission. 
Although Leon scored five goals, eighth grader Peacock did make 13 saves during the match. 
PSJ Boys Soccer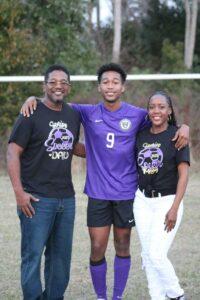 After recognizing seniors Jaydon Gant, Christian Peacock, Kaiden Pitts, and Tad Russell, the Tiger Shark boys methodically rolled over Munroe (0-13-1). 
The Sharks struck early and often against the Bobcats, taking a 5-1 halftime lead before tacking on four more scores in the second half. 
Taylor Burkett led the way with four scores, followed by Gant with two goals and two assists. 
Lance Larry scored a hat trick, and Estevan Angel, Russell, and Ayden Sapp each scored a goal. Russell also assisted on a score. 
Connor Howell and Fisher Vandertulip protected the St. Joe goal for a half, with each allowing one score.
Saturday's final regular season game against Leon (7-9-4) ended in a 3-1 loss, with Gant scoring the lone Shark goal after an assist by William Shoaf. 
The team leader with 29 goals, Gant is currently ranked sixth in the entire state. Combining his goals with his 10 assists, he is also sixth in total points with 68. Players earn two points for a goal and one point for an assist. 
Tied at 1-1 going into halftime, the Lions found the net twice more in the second half while holding St. Joe scoreless. 
Finishing the regular season with a 10-4-3 record, coach Brian Burkett's squad is 5-0-2 in 2A District 1, seeded second to St. John Paul II. 
With both teams receiving a first-round bye, St. Joe will play a district semi-final match on Monday, Jan. 30, against the winner of the Rocky Bayou-Munroe game. 
The district finals will be played on Thursday, February 2.