Port Theatre restoration project seeks requests for proposal
Four years after Hurricane Michael, a restoration project at Port St. Joe's historic Port Theatre has requested proposals from contractors.
According to an update from Port Theatre Board Member David Warriner at the Port St. Joe Board of City Commissioners meeting on Jan. 17, the project will cost about $3 million.
"We proudly can say that we went out for RFP the 5th of January," he told the commissioners. 
Port St. Joe's Historic Port Theatre first opened its doors in 1937 as a movie theater and community gathering place.
It closed its doors in 1967, but even as the building began to take on the wear of time, its imposing art deco facade remained a landmark for the town. It was placed on the National Historical Register in 2003.
A steering committee dedicated to the revitalization of the historic Port Theatre has held meetings with local and regional stakeholders and professionals. The result is the formation of the board for the Port Theatre Art & Culture Center, a non profit group dedicated to the preservation and revitalization of this local treasure and historic resource.
When Hurricane Michael hit, the theater had just reopened its doors to host once weekly community events.
The storm wreaked havoc on downtown Port St. Joe, and once again, the theater was shuttered.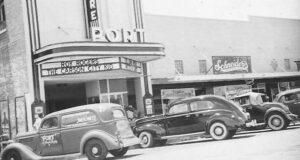 "Since we closed after Hurricane Michael hit, we have been working very hard to get some large grants to assist us in getting this thing back together," said Warriner. "… It's been an arduous path."
More than $2.5 million has been raised to go towards the building's restoration after the storm — money which the theater's board hopes will not only restore the building to its pre-hurricane condition, but will help take the theater's restoration a step further.
"That was a beautiful and lovely, productive shell of a building, and with a little extra work, we could have probably opened it full time, but it needed a lot more work," Warriner said.
"So restoring it to its prior status is not going to be what we want to do. We want to open it full time."
A little more than $2 million of that raised comes from various grants, including $1.1 million from the Federal Emergency Management Agency, $500,000 from the National Parks Service and more than $436,000 in a Florida Historic Preservation grant.
Warriner said the group had also brought in about a half a million dollars in private donations towards the project. They hope to bring in about a half a million more before renovations are complete.
Now, the organization will have to wait for proposals to come back from local contractors, among whom he said there has been demonstrated interest in the project. The deadline for contractors to enter a proposal is Feb. 9.
The organization had gone out to bid on the project once prior, but found that the money they had raised at that time had come short of what contractors predicted the cost of repairs would be.
Should things go according to plan, he said construction on the theater could begin as soon as April.
"Hopefully there will be (a proposal) that we can afford, because, as you all know, when they come in and they're bigger than you expect, you've got to stop the process and start all over again," Warriner said.
"I'm confident with all this extra fundraising we've done and a scaled back version of the project from the last time we bid… we'll be able to build a theater back that will make you all proud."