Are there ghosts in Port St. Joe?
Park Ranger Joanna Lindsey is skeptical of ghosts.
But still, sometimes, when she's working in the Constitutional Convention Museum after closing, she can't help but feel like she might not be alone.
From time to time, she said, the animatronics display will start up on its own. Other times, the motion sensors will go off for no reason. Some people even report hearing voices, though she can't say she ever has.
Even if Lindsey's not so convinced, if any city in America were to have ghosts, she couldn't deny that Port St. Joe would be among them. Plus, the stories are fun to tell, especially around Halloween.
"The city itself, within less than 10 years, went from being the booming city of St. Joseph — destined for great things — to being known as the city of the dead," she said. "And so, a lot of folks that I've talked to in the area, they seem to think they've encountered some restless spirits."
"And I would say, sometimes I kind of do believe in such, as this would be a prime location."
St. Joseph already had a reputation as a "wicked city" — riddled with gambling and other pleasures — when the Yellow Fever epidemic of 1841 swept through.
Though exact numbers are not known, the death toll, paired with an unseemly reputation and an underproductive port, was significant enough to stymie the growth of the city, which was once projected to be the largest in the state of Florida.
Somewhere on the outskirts of town, there were mass graves dug for victims of the Yellow Fever, thought to be near the current site of the historic St. Joseph cemetery off of present Garrison Avenue.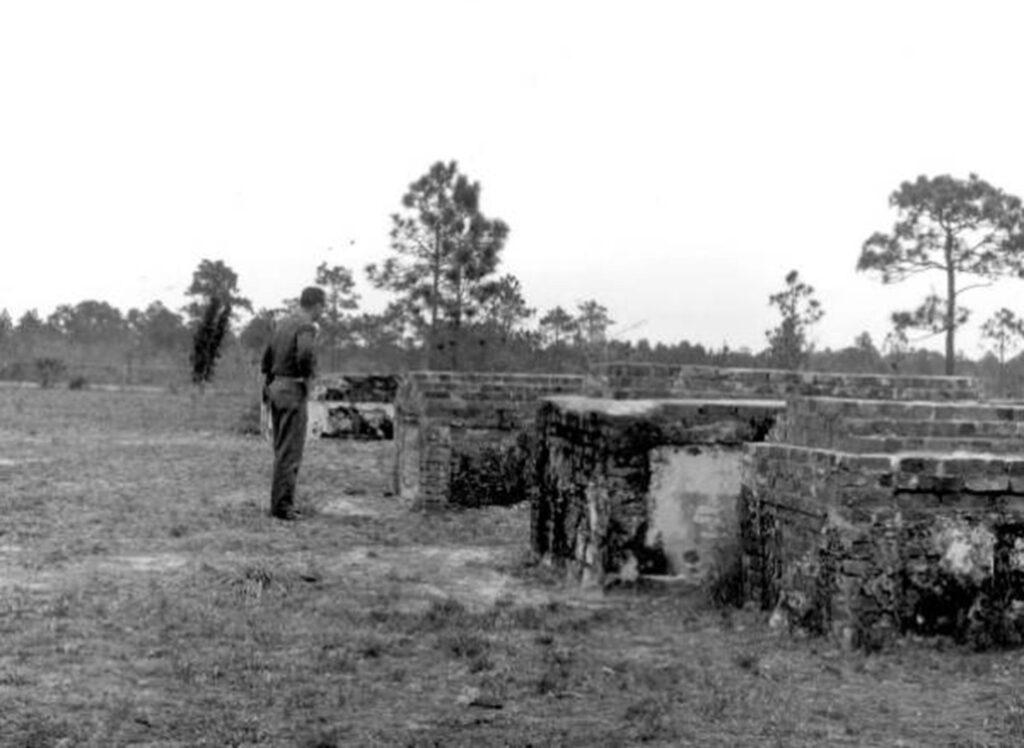 Lindsey's eyes drift over to a chipped headstone on display behind a glass case.
"If you've been to the old St. Joseph cemetery, you'll see there are very few marked graves there," she said. "In fact, Captain George Kupfer who was known as the first yellow fever victim to be buried there, we actually have the headstone here in the museum, and they have a replica in place there."
"But he actually died in 1840. And he died aboard his sailing ship, and they just brought him in to give him a proper Christian burial."
Etched in the stone, you can see the dull, rounded half-inch indications where someone fired rounds into it.
Kupfer had been the town's first victim of the Yellow Fever epidemic. One year later, when the town was ravaged by the disease, he wrongfully shouldered a great deal of the blame.
"We now know that the disease is spread by mosquitoes," said Lindsey, "so it is unlikely that he spread it when he was already deceased."
She has a feeling if anything in the museum is haunted, it's Kupfer's tombstone.
"Creepy stuff that happens around here since I actually have his headstone, and sometimes I feel like he's kind of watching over it," Lindsey said. "I have to assure him that I'm taking good care of his headstone here."
"Over the years, people would scratch their names into the headstone or use it for target practice," she continued. "And so I feel like maybe his spirit may be watching over it since he suffered from people desecrating his headstone over the years and blaming him for the Yellow Fever."
But the park ranger said that she's heard other ghost stories from those who visit the museum — some from right there on the park's lawn, some from around town, and a lot from the city's historical cemetery.
"That is pretty much where they figure most of the mass graves were," she said. "And some locals and visitors come in and say they have seen orbs, or some have actually seen, I guess, full body apparitions."
Lindsey isn't sure exactly who the apparitions might be — perhaps Nancy Duval, the first Florida civilian governor's wife who was buried in a mass grave after contracting yellow fever while visiting her daughter in town.
Other theories point to George Clarke, a St. Joseph ship captain who was buried in a marked grave at the cemetery.
Maybe, Lindsey said, it's one of the signers of the first Florida constitution, which was drafted in town, seeking to relive their glory days.
Or maybe, she said, it's just tricks of light from Florida's bright sunshine.
Regardless, the history behind the stories fascinates her.
"I myself have not seen anything like that," she said. "But I would encourage anyone who wants to go on some new adventure to take ghost tours in the area, because this place is just ideal for that."