Student volunteers spend spring break fixing Gulf County homes
Construction sounds and laughter broke the calm morning on James' property just south of Wewahitchka, but he didn't mind the interruption.
There, in front of his brand new mobile home, a group of 10 or-so college students gathered to build a ramp, one of the last required steps before James, who has had a hip replacement, will be able to move into his new house.
"I like having them here," he said, surveying the student volunteers' work from afar. "It makes a big difference to me to see something like this. It makes me smile, and not too much anymore has."
James, an Army veteran who requested that only his first name be used, lived in a tent on his property for months during the spring and summer of 2021. He has been homeless since 2018, when Hurricane Michael destroyed the house where he lived.
The storm took his sister, one of his only remaining support systems in the area, and his construction business, which he could not sustain through the financial hardships that followed. For most of a year, he had no steady place to lay his head. But he helped his community where he could with skills gained through decades of construction experience.
It's because of that experience, he said, that he was so impressed by the quality of the construction work done by the students.
"I'm really impressed with these youngsters," he said. "They're doing a really good job, and none of them have ever done this before."
"There's a really good group of youngsters here, and they're going to go far in life. I can guarantee that just by listening and watching."
Now, James lives in a borrowed camper, loaned to him as a temporary roof by the Citizens of Gulf County Recovery Team, a local organization looking to provide safe housing to Gulf County landowners and homeowners after disasters.
James has been in the camper for about 18 months while he waits for the organization to put the finishing touches on his donated mobile home. But watching the students put the finishing touches on their work, he said he sees an end in sight.
"I'm just blessed this is happening. I'm telling you it's brang too many tears. I always knew the folks at the (Citizens of Gulf County) Recovery Team were my angels, and now I feel like I have a whole bunch more of them," he said.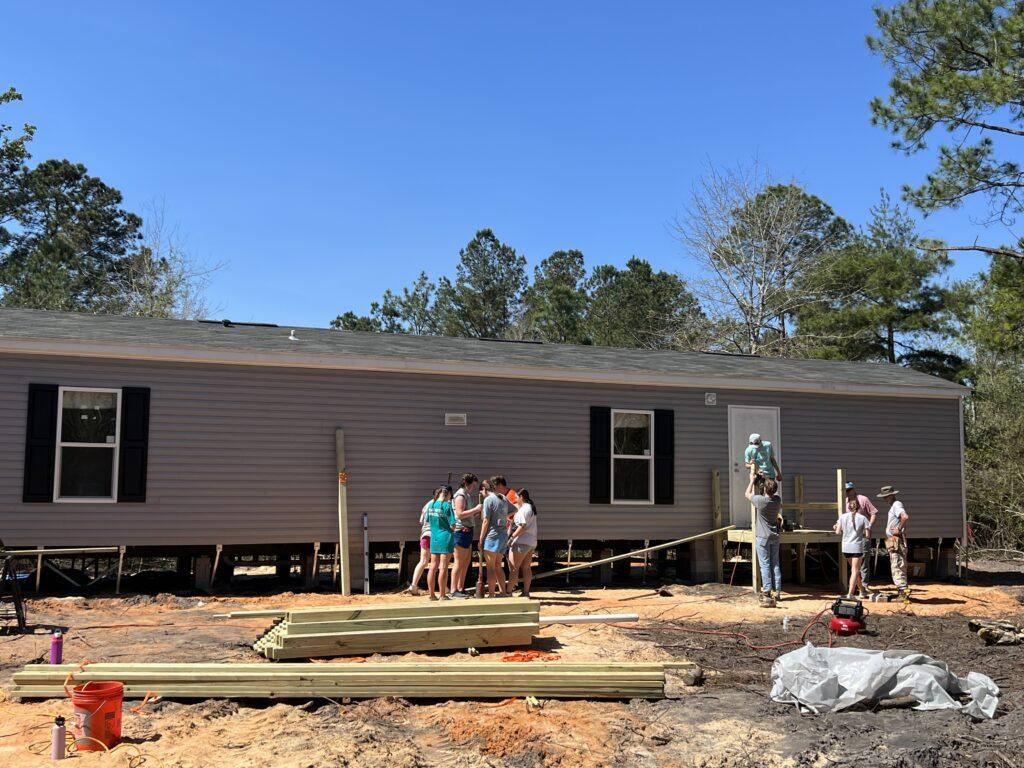 James' ramp was the culmination of several days' work for a group of student volunteers, coordinated by local organizations, who came into Gulf County last week to spend their spring break offering assistance and performing repairs for residents in need. It is one of dozens of construction and cleanup projects performed by the group throughout Gulf County.
The volunteers, students from Auburn University who are members of the student ministry at the First Baptist Church of Opelika, have been driving down from Alabama during the students' spring break for 17 years.
But Diana Burkett, the executive director of the Christian Community Development FUND who helped coordinate the students' efforts in Gulf County, said that while the volunteers have been coming down for almost two decades, the need for their assistance has never been greater than in the years that followed Hurricane Michael.
"They do projects that the CCDF lines up for them," she said. "And for the most part, we buy the material for the program, and they come in and do the free labor."
The CCDF partners with local organizations like the GCCRT to identify potential projects for the volunteers.
Burkett said the program sent about 200 students down to Gulf County, who completed 21 projects, along with about a dozen yard clean-ups and pressure washing jobs from March 4 to March 8. The program also sent about 100 students to Apalachicola.
"If you take 200 students times about six hours a day at labor rates, that's how much money they're saving out city and county by volunteering here," said Burkett.
The students pay their own way to participate in the program, including renting housing on Cape San Blas. Burkett said the group rented 25 houses this year and has already booked accommodation for next year.
Now that his ramp is complete, James said all that remains between him and his new home is running water and electricity to the structure.
"They still have to finish all the utilities up and come back in here and grade this and make it look pretty," he said, examining his property.