Pickleball tournament brings funds, awareness for sea turtle conservation
It's only the event's third year, but the Pickleball for Sea Turtles tournament has quickly become a springtime staple in Port St. Joe.
This year's activities, which spanned three full days over last weekend, included local vendors, informational booths, and a competitive tournament featuring more than 100 local and visiting players.
"We had over twice as many players as last year, some of whom traveled from across the southeast to join us," said Jessica Swindall, a representative of the Florida Coastal Conservancy, the tournament's beneficiary.
Food and coffee were provided for the players and spectators by Josie Joe's Coffee, Lowry B's BBQ and Sweet Bunz Donuts, and the FCC set up a booth with merchandise and educational information about sea turtles.
Proceeds from the event will go towards supporting the Forgotten Coast Sea Turtle Center and other programs run by the Florida Coastal Conservancy.
Swindall said that the tournament brought in thousands of dollars for the organization. With nesting season starting May 1, Swindall said the funds will help support the organization's efforts to raise awareness for and protect the county's nesting sea turtles.
Tournament results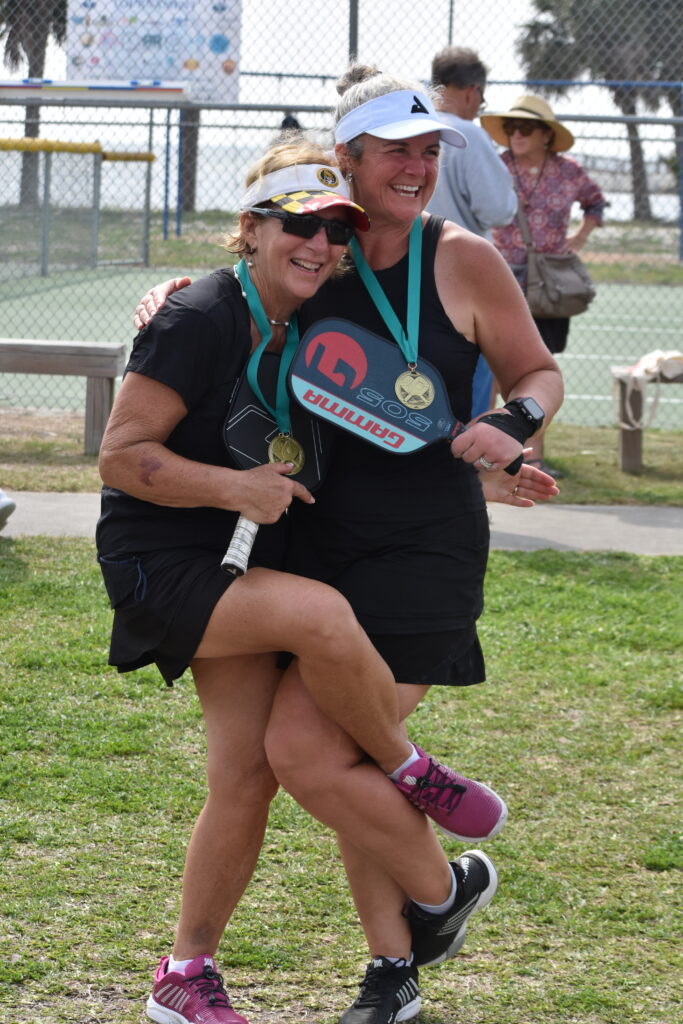 Women's Doubles 16+
Gold: Debby Skipp & Peggy Renihan
Silver: Billie Barnes & Marie Ehrman
(No Bronze)
Women's Doubles 50+
Gold: Adrienne Bell & Penny Isom
Silver: Lynne Sakanich & Karin Phelan
Bronze: Funda Aiken & Tammy Farmer
Women's Doubles 60+
Gold: Susan Hudlow & Karen Quesada
Silver: Jackie Brooks & Tracy Nye
Bronze: Theresa Harrell & Barbara Pickels
Women's Doubles 70+
Gold: Charlene Neel & Caroline Madsen
Silver: Carol Martin & Linda Griffin
(No Bronze)
Men's Doubles 16+
Gold: Shane Shelnutt & Shay Shelnutt
Silver: Brent Edel & Jimmy Harwood
Bronze: Scott Hoffmeister & Will Burris
Men's Doubles 50+
Gold: Shannon Watson & Keith Anderson
Silver: John Dohogne & Al Johnson
Bronze: Sean Wieland & Howard Stein
Men's Doubles 60+
Gold: Clint Cox & Randy Pridgeon
Silver: Steve Julian & Lee Pearson
Bronze: Michael Aiken & Steven Culbertson
Men's Doubles 70+
Gold: Ed Mitchem & Allan Becker
Silver: Tom Hudlow & John Moore
(No Bronze)
Mixed Doubles 16+
Gold: Tracey Clinkscales & Dustin Lemasters
Silver: Peggy Renihan & Howard Stein
Bronze: Casey & Marie Ehrman
Mixed Doubles 50+
Gold: Randy & Lisa Pridgeon
Silver: Ginger & John Dohogne
Bronze: David & Adrienne Bell
Mixed Doubles 60+
Gold: Deby Revolinski & David VanHandel
Silver: Tammy Farmer & Ed Mitchem
Bronze: Susan & Tom Hudlow
Mixed Doubles 70+
Gold: Veronica McCormick & Rick Bryla
Silver: Patsy Johnson & Steve Julian
Bronze: Carol Martin & Al Johnson