EPA Job training program celebrates first Port St. Joe graduating class
The processional had been played. Graduates had taken their seats. Instructors and organizers had made inspiring speeches about the future.
It was a graduation like any other. But, for Lynda Willis and her six fellow graduates, the ceremony represented more than just a celebration of their personal accomplishments. They were also there to celebrate the beginning of the program, one she said she hopes will have a lasting impact on the community.
As she looked out at the small but joyous crowd that gathered in Philadelphia Primitive Baptist Church, she adjusted her cap and gown, lowered the microphone at the podium and then addressed the room.
"There are many reasons why we are here. Each and every one of them are different," she said. "…I chose this program because I love this community. And I know what injustice has been done to this community. And I want to help clean up this community."
"At my golden beautiful age of, what did they say? Sixty-something is the new 30? I want the children to see if she can do it, I can do it too."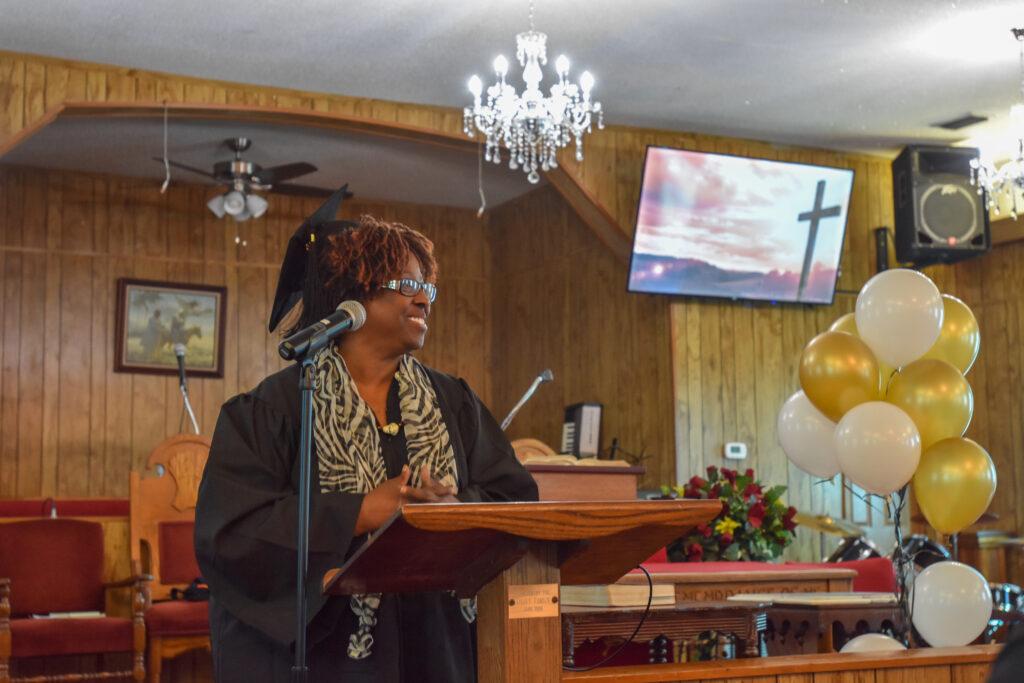 The cohort of graduates were the first to complete a job training program funded by a $199,970 Environmental Protection Agency grant obtained by Pioneer Bay Community Development Corporation.
During an intensive six weeks of instruction, the students had achieved 13 certificates, including five that are federally recognized. Their course materials included instruction in OSHA, hazardous waste operations and emergency response, introductions into environmental justice and environmental stewardship, introduction to brownfields, environmental site assessments, field work, GIS trends and infrastructure, water and wastewater, and more.
But beyond giving students these qualifications, with which they can be more competitive in the growing environmental job market, organizers hope the program will help to provide the community with an able workforce with which they can achieve their goals which still lay ahead.
"This is a momentous day for us," said Dannie Bolden, the program's outreach coordinator.
"Today is (the result of) really a combination of a lot of hard work that has gone into preparing the grant that allows for this particular job training program to be received from the EPA. But it also highlights the many years of need for addressing the environmental issues that have impact the community of North Port St. Joe."
In 2002, following the shuttering of the Port St. Joe Paper Mill and the Arizona Chemical Plant, portions of Port St. Joe were declared Brownfield sites, which the EPA defines as "real property, the expansion, redevelopment, or reuse of which may be complicated by the presence or potential presence of a hazardous substance, pollutant, or contaminant."
And complications are still present, residents say.
"Everybody's probably heard the story about the people here. They've probably heard the story about the contaminants. They've probably heard the story about the drinking water. All those stories are real," said Bolden. "And as we were looking at how the community could take ownership and responsibility for cleaning up and correcting these actions, we realized that, you know, we had to do something."
The grant funding the job training is the second of three that have been obtained by Pioneer Bay CDC from the EPA.
Pioneer Bay, a non-profit working towards North Port St. Joe's redevelopment goals, received the first grant, a $200,000 community problem solving grant, in late 2021. It will be used to kick start a project aimed at improving unsafe housing conditions in the community.
The third grant, which was announced last summer, provides nearly half a million dollars in funding that will be used to conduct 16 phase one environmental site assessments, followed by eight phase two assessments, and the creation of eight cleanup plans.
The grants come after half a decade of discussions among involved parties, ignited by the development of the 2016 Master Plan for North Port St. Joe, a community-driven restructuring of the original 2009 document outlining the plan for the neighborhood's redevelopment given these environmental factors.
North Port St. Joe is the only community to receive all three grants.
"These job training grants are competitive, and to eat out so many other applicants and communities, it's very impressive, and congratulations on having your first graduating class," said Freddie Wilson, a project office with the EPA, addressing those gathered Friday.
According to Dr. Krystal Pree Hepburn, an Environmental Scientist helping to coordinate the training, there will be future job trainings offered under the grant, with the next slated to begin as soon as next month.
The trainings are open to anyone 18 or older.
For more information about the job training program or the grants, contact Pioneer Bay CDC at 850-227-5662.