Volunteers train to keep fire departments rolling
It was still chilly when a dozen or so volunteers from local fire departments gathered around their driving instructor for a morning briefing.
Their course had been laid out in rows of bright orange cones, which stood like sentinels on the Port St. Joe High School parking lot on Sunday.
"I want you to think of these cones like they're not cones," said Doug Harrell, a fire chief from Calhoun County and one of the instructors. "They're grandma's car, or a brick wall, or a stop sign, or pedestrians."
"But also, they are cones, so it's OK if you kill them… That one over there is going to get killed a lot," he laughed.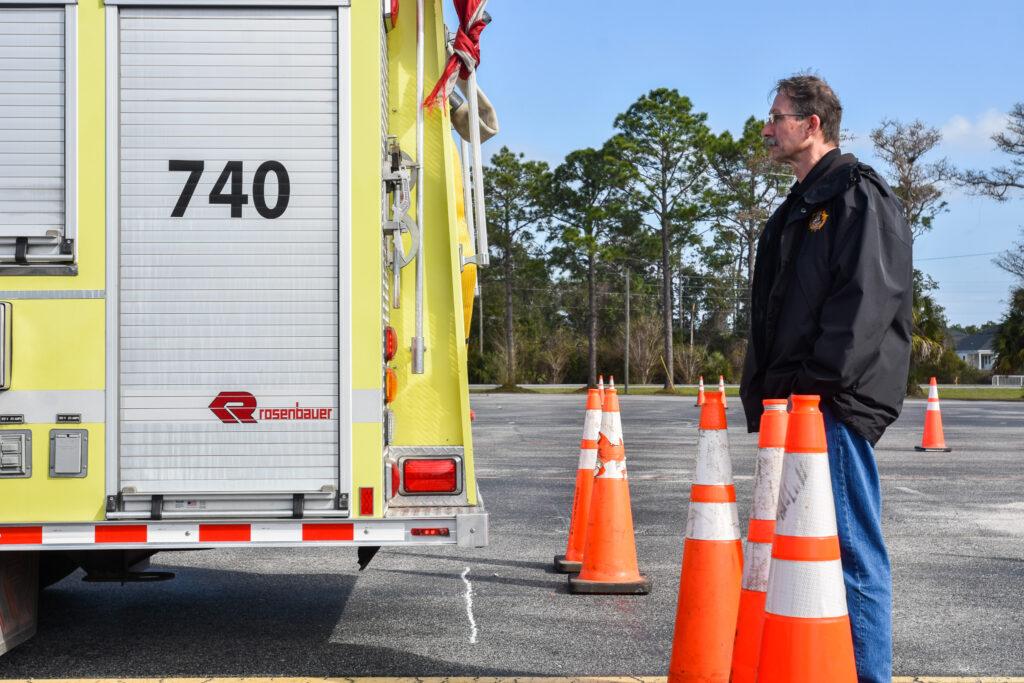 First responders in Florida are required to complete 16 hours of emergency vehicle operator course classes before they are permitted to drive large emergency vehicles such as fire trucks and ambulances.
The course is split into two sections, a written test and a driving test, in which students must navigate an emergency vehicle through a course of cones.
Having completed the written portions of the class, the participants had already studied and been tested on materials including the legal aspects of emergency vehicle operators, selecting routes and reporting emergency operation, defensive driving, and accident avoidance.
That Sunday, all the students had left to do was complete the driving course laid out before them.
"A lot of these people have never driven something this large before," said Charlie Frank, another one of the course's instructors. "It's definitely a different experience when you're so high up and in something so heavy. You could hit something and never even know."
"That's why it's important to practice somewhere so controlled. What would happen if the first time you drove one of these vehicles was when you received a call for an emergency."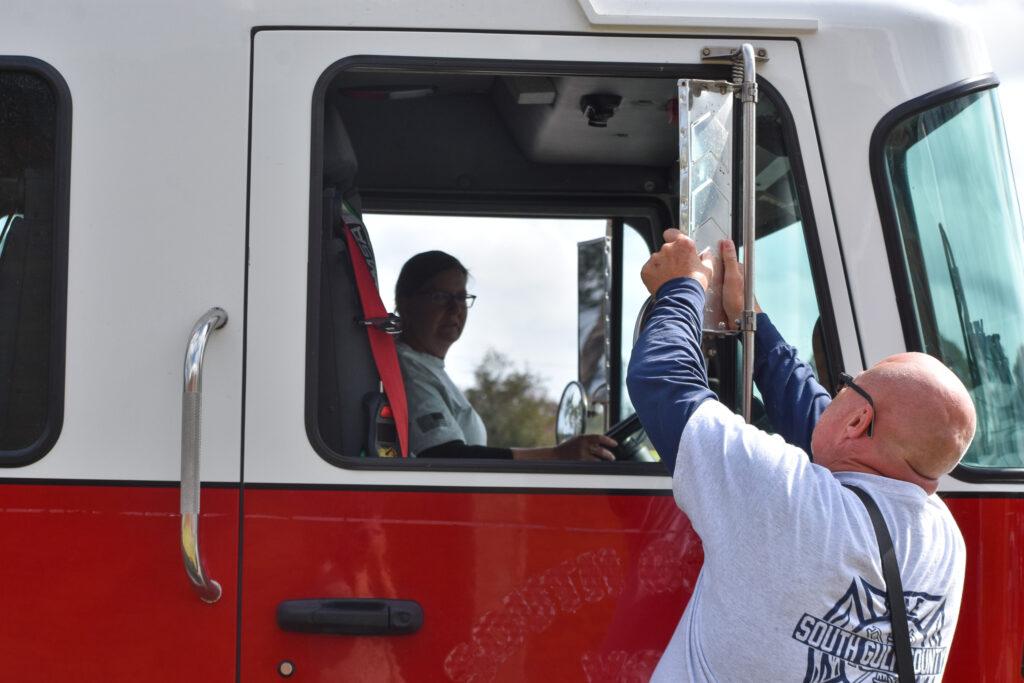 The trainees spent the next eight hours navigating fire trucks through a complex web of traffic cones.
They started by pulling the truck forward 200 feet in a straight line, then backing it up the same distance while trying not to hit cones spaced about eight and a half feet apart. Then the drivers had to complete a three-point turn, back the truck up and bring it to a stop at the correct point, serpentine through cones forwards and backwards, change lanes, parallel park, make it through a passage with diminishing clearance and bring the truck to a stop at a stop sign.
Many cones were hit along the way.
But, Frank said, that was the point of the exercise.
"We don't expect them to do it perfectly the first time, and actually, this group is doing pretty well," he said. "The drivers will have to complete another 10 hours of driving on the roads before they are able to respond to any calls, so today is really all about familiarizing the students with the equipment."
Participants represented four Gulf County volunteer fire departments — South Gulf FIre Rescue, Gulf County Beaches Volunteer Fire Department, Wetappo Creek Volunteer Fire Department and Dalkeith Volunteer Fire Department.
Representatives from West Side Volunteer Fire Department in Calhoun County also participated in the training.
All fourteen students are now certified to drive these vehicles in the future.