Community celebrates twin sisters' 99th birthday
Identical twin sisters Vera Rozier and Era Daniell have done a lot together throughout their life.
Celebrating their 99th birthday was no different.
Sporting matching bejeweled tiaras, the pair of near centenarians celebrated the milestone in style on Feb. 8 — with about 100 of their closest friends and family.
"There's so many (people) here, I can't remember all their names," joked Rozier as she scanned the Wewahitchka Senior Citizens Center, which had been decorated with balloons and bright purple tablecloths, the color of the twins' birthstone.
"I've got a lot of beautiful friends, I've got my two daughters, my niece, and, of course, my twin sister."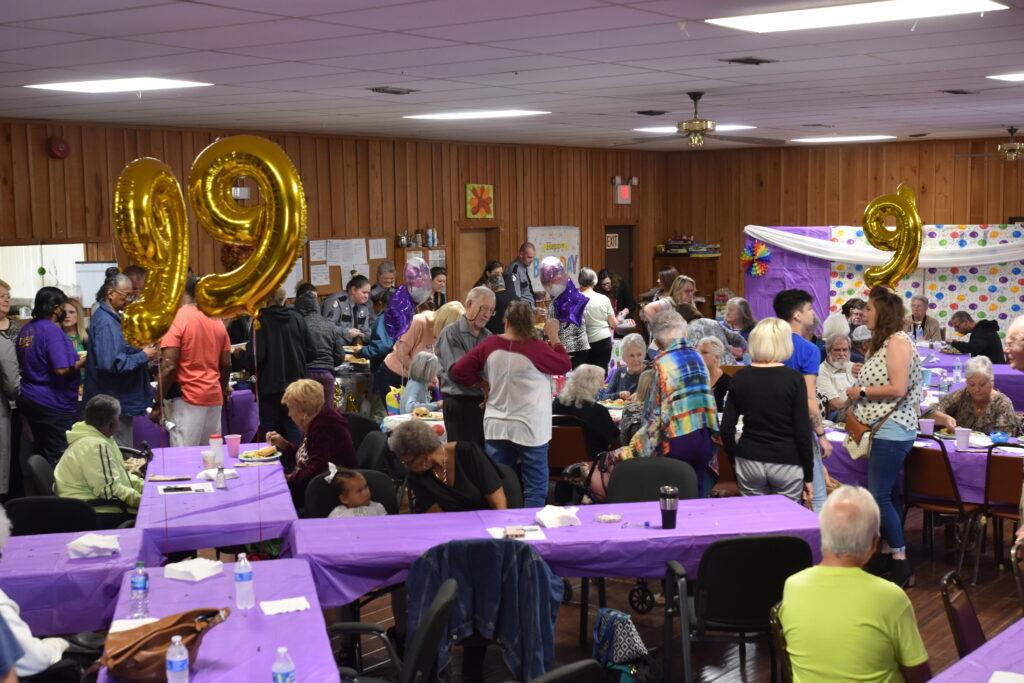 Rozier, who lives in Wewahitchka, and Daniell, who lives in Port St. Joe, have always been close.

They were born in a log cabin in Alabama, and the pair have spent most of their lives in Gulf County. Over those years, they became highly involved in the local community.
Daniell, a talented gardener, spent several years serving as the president of the Port St. Joe Garden Club. According to those who were members of the garden club at that time, Daniell was committed to helping coordinate service projects for the organization, including creating a butterfly garden at the elementary school.
Rozier, who was a longtime hairdresser in the Wewahitchka area, is well known for her kind and independent nature. She is highly involved with the Wewahitchka Senior Center and was presented the key to the city on her 90th birthday.
Members of the community spent months coordinating the twins' birthday celebration, according to Wewahitchka resident Tom Wynn.
"We started in about October coming up with the idea," he said. "And we've kept it a secret all that time, so I made a lot of phone calls in the background, getting local organizations involved."
Food for the event was donated by the Gulf Correctional Institution, and several members of their staff volunteered to help serve guests.
Wynn said that the Wewahitchka Woman's Club, the Friends of the Wewahitchka Library, Bay Florist in Port St. Joe and the Gulf County Senior Citizens Association were all heavily involved in planning efforts.
As the party began to dwindle, the twins expressed their gratitude to the community for the celebration and for the gifts and cards that had been brought.
But beyond that, they expressed how glad they were to have been able to celebrate their 99th birthday together.
"I'm just so happy to still have my sister here with me," said Rozier.